CreativeMornings
Connecting the creative community through collaborative content.
In 2008, Tina Roth Eisenberg started
CreativeMornings
in New York City with a simple concept: breakfast and a short talk one Friday morning a month. Every event would be free of charge and open to anyone. Since then, CreativeMornings has grown to over 170 cities around the globe.
In 2015 I joined the HQ team in Brooklyn as Design Lead, and that fall we launched a brand new project: The CreativeMornings Podcast.
Problem:
We had thousands of hours of video content archived on the site, but much of it was forgotten, aside from a few trending talks.
Solution:
Make old content fresh again by presenting in a new accessible format with new insights from the speakers and notes on creativity from the CM community.
I designed a web UI with a custom audio player, where we linked up related video content and taggable quotes.
Every episode page has a unique color scheme and quick links to download the audio to iTunes, Soundcloud, or an RSS feed. The podcast is now in its third season!
www.creativemornings.com/podcast
•
We also worked extensively with CreativeMornings' Global Sponsors, creating branded campaigns or month-long activations.
I designed and launched CreativeMornings Skills in partnership with MailChimp, a project where we asked people to share a 2-minute video that teaches a skill (any skill) to help promote mentorship within the global creative community.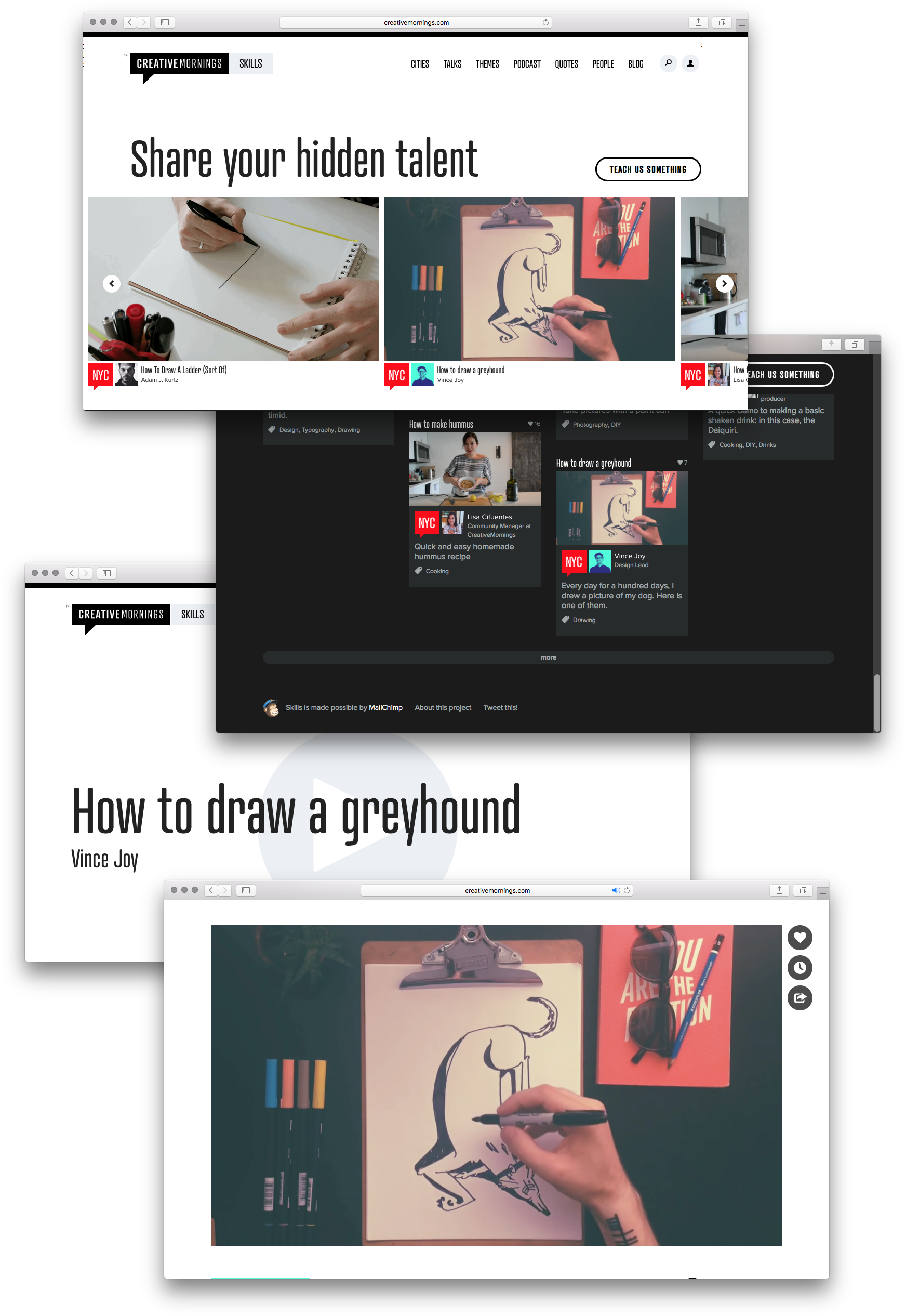 I helped seed the project with a video of my own —
How to draw a greyhound
, featuring Jack as himself. Shot on an iPhone suspended above my desk with a DIY contraption made of two Ikea chairs and a yardstick.
Next Project →